What can small pellet plant do for you
200-500kg/h Small Pellet Plant can process any kind of biomass materials includes wood fiber, such as peanut shells, bagasse, castor shells, straw, sawdust, coffee grounds, rice husks, sunflower shells, cotton stalks, tobacco residue, leaf mustard stalks, bamboo, jute residue, tea residue, wheat-straw, palm shell, bean shell, coconut shell, dregs of decoction, and wood waste, etc.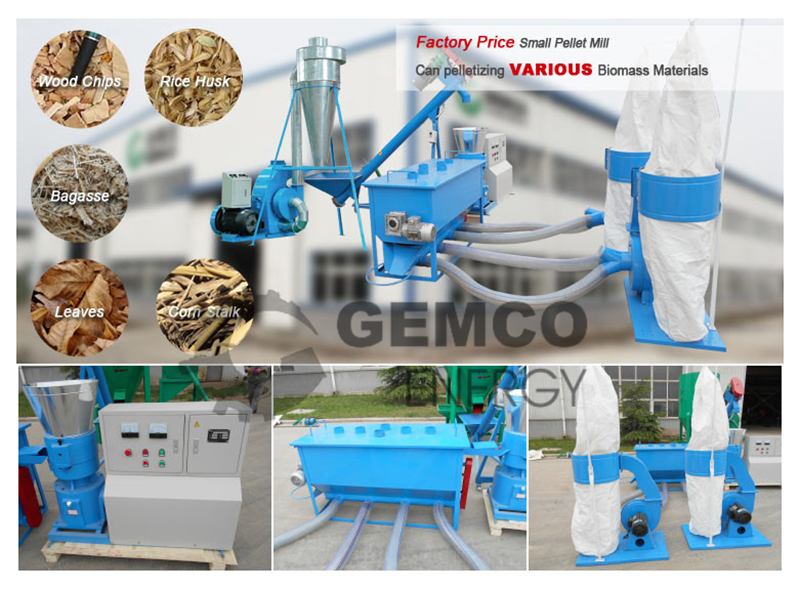 If you are new to this business, this small pellet plant is the proper choice to make. The plant is flexible and light, the yield is moderate, and most important, the price is affordable. 200-500kg/h Small Pellet Plant suits a farm, a small factory or a big home. And if you need any parts of the plants, contact us, we also offer the associated equipment which is as quality as the whole plant.
Small pellet plant we offer
No matter what size, color, productivity or driven model you choose ,the components of small wood pellet plant remains the same. There are some basic constituent part of a typicalsmall wood pellet plant, they are:
screw conveyor
small wood pellet mill
integrated cooling screen
Small pellet plant can be designed very flexible and exactly as your requirement. These are some of the project we've set for our clients. Like the pictures showed, we can designed small pellet plant according to your site, power condition and other demands.

How do small pellet plant work?
It is in fact not complex. The working process of small pellet plant including Wood raw material processing (chipping, crushing)—drying—pelletizing—cooling—packing and storage. The equipments of the small pellet plant are Crusher, Dryer, Conveyor, Small pellet mill (electric, diesel), Cooler, etc.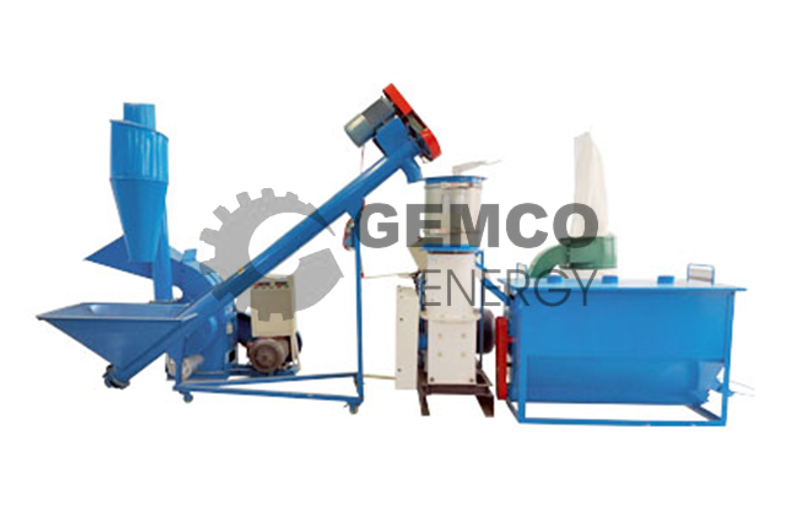 Small pellet plant advantages
Various materials
GEMCO can design small pellet plant according to your situations and of course, we can design small pellet plant that process various materials.
If your material is biomass waste, such as straw, rice husks, peanut shells etc. Tell us, and we will recommend the flat-die die-turned sawdust pellet mill to you and install this kind of pellet machine in your small wood pellet plant with your permission. Otherwise, if you mean to produce wood pellets, and your materials are softwood or hardwood, the right choice is a roller-turned pellet mill.
Wide application
We talked about wood pellets above, in fact, small pellet plant can process not only biomass pellets, but also folder pellets. In fact, we even build a small pellet plant line for a cat litter factory in Australia. As we all know, now a lot of things are formed in pellets, such as wood pellets for heating, folder pellets for livestock, biomass pellets for animal bedding, even rat poisons are pellets.
No matter what kind of pellets you want to make, we, GEMCO can help you design and build the most efficient and energy-saving small pellet plant line. Contact us for details and quotation. Our professional staff will replay within 24 work hours.