| | |
| --- | --- |
| Model | 150, 200, 230, 260, 300 |
| Power | 10-41 HP |
| Capacity | 40-800 kg/h |

How do I work?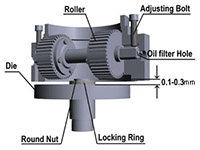 As I always mentioned, there are D type and R type pellet mills showed on this site. The D is die, D type means the die-turned. While the die is turning, the roller above will be driven by the momentum of the turning die. Otherwise, the R is roller, the R type, means roller-turned. The roller rotates above the still die when the pellet mill work. No matter what type it is, the friction between the die and the roller will press the raw materials into the pelletizing holes. They are formed in the holes and squeezed out in strips. Then, the cutter can cut the strips into pellets, and the length of pellets can be adjusted by the clients according to their needs.

What can I do for you?
Roller is a wearing part of pellet mill. It can serve 300-500 hours under normal running condition. It is recommended to replace roller and die at the same time. The material quality has an huge effect on the service life of the pellet mill roller. Poor quality roller can't bear the high temperature generated in the working process, thus, it can be a bad influence to the work efficiency. We provide our clients with only quality spares that can exactly fit the machine. We stock parts for every model and leave us messages about your pellet machine, we will find you the one can replace your original parts perfectly.