What can biomass pellet line do for you?

Biomass pellet line is especially suitable for clients who want to start a pellet business of your own. We provide pre-sale, sale tracking, and after-sale service to make sure that you won't invest in vain. We can design the line according to your special situation and budget, and provide technical support whenever you need. Our successful project is all over the world, and the clients are bringing in. Check the gallery and see videos about our project, and if you have intention of co-operating with us, please contact us and leave your message below.
How does biomass pellet line work?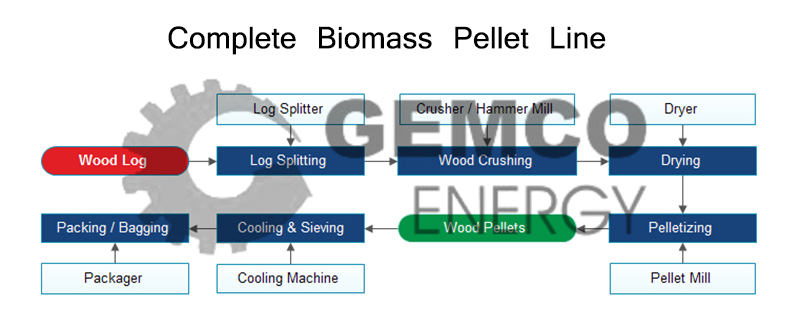 A complete pellet line includes equipments that can pretreat the materials, crush materials, dry them, adjust the temperature and hardness of materials, pelletize, cool the pellets and package them. So there will be a series of machines such as hammer mill, airflow dryer, pellet mill, counterflow cooler etc. With the line, you prepare the raw materials and get quality pellets already packed. Biomass pellet line is convenient, efficient and high yield.
Wood pellet plant we've built
There is an example of GEMCO built large wood pellet plant. The core part of this complete pellet line is Model 550 flat die pellet mills. The capacity of this large wood pellet production line is 1 ton/h.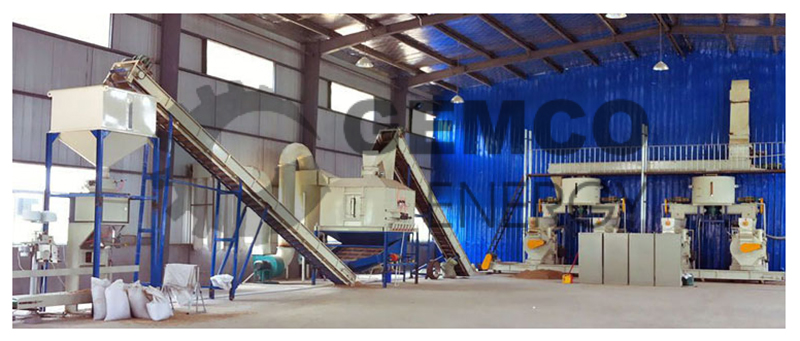 It includes crushing, drying, pelletizing, sieving, dedusting, and packaging machines. Every single pellet equipment in this plant is characterized by high performance with its operations monitored by electrical panels.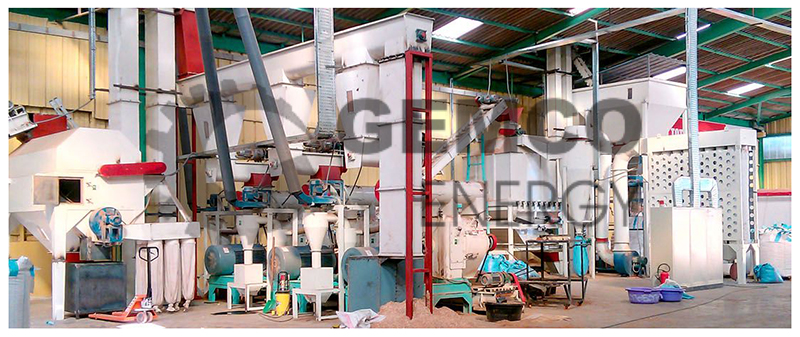 Our complete plant has a compact structure, it is low energy consumption and highly efficient. Every machine in the wood pellet plant can be designed and manufactured according to customers' requirements. Professional technicians are also available to arrive on site to install the machinery and give guidance.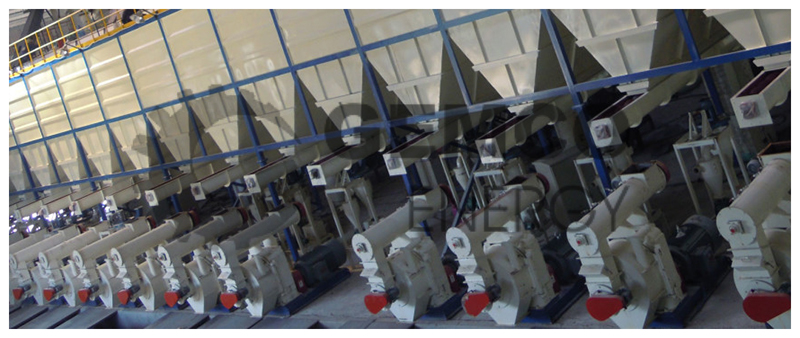 Here is the list of the pellet machines in this large wood pellet plant.
| NO. | Name | Model | Quantity | Power |
| --- | --- | --- | --- | --- |
| 1 | Hammer mill | 500-40 | 1 | 22kw |
| 2 | Cyclone | 63 | 2 | |
| 3 | Roller dryer | HQ-1000/10000 | 1 | 9kw |
| 4 | Pellet mill | KM-55 | 1 | 55kw |
| 5 | Elevator | TSJ-500 | 2 | 1.5-4kw |
| 6 | Coolant separator | LQ-1 | 1 | 9kw |
| 7 | Pulse dust collector | MC-1 | 1 | 1kw |
| 8 | Quota packing scale | TSKC | 1 | 4.5kw |
| 9 | Electrical Cabinet | | 1 | |
This is only one model of GEMCO wood pellet plant. In fact, with the details of your site and target market, we can customized large wood pellet plants that exactly fit your needs. For clients, we offer services that includes free consultation, raw materials tests, free design and team training. If you have interest in wood pellet business, please contact us by leaving messages below. GEMCO is always your faithful supplier and partner.