GEMCO is a professional designer and manufacturer of quality small pellet mills. Our small pellet mill is now recommended as a hit product. The ZLSP series Pellet Mill as a latest model is specialized in processing various kinds of biomass raw materials. The driving gear is made of superior alloy steel. The gear surface is processed via carburizing and quenching also has been fine-ground. Consequently, it embraces the advantages of steady transmission, low noise, excellent loading capacity, slow temperature rise, long service life and good pressure tolerance.
Classification of small pellet mill

Small pellet mill can be divided into die-turned pellet mill and roller-turned pellet mill. Die-turned pellet mill is good at processing biomass raw materials such as sawdust, straw, rice husks, peanut shell etc. And the roller-turned pellet mill is adept at processing softwood and hardwood.
According to the motive force, small pellets can also be divided into 5types, the motor-driven type, the enclosure-motor-driven type, the diesel engine-driven type, the gasoline engine-driven type and the PTO type. We offer small pellet mills in different kinds of driven type to meet the customers' needs. If you are not sure what kind of pellet machine is more suitable for your situation, leave us a message and our online consultation will make a plan especially fit you for free.
Advantages of small pellet mill
The structure of small pellet mill is simple and reasonable. It occupies a limited area and is very quiet.
Small pellet mill can make pellet without any additives. This is convenient for pellet making and it can increase the output while reduce the energy consumption.
Small pellet mill produce only high quality pellets which can be install and transport easily.
Small pellet mill has different kinds of plate.The size of the plate's holes are from Ø2.5 to Ø10. Users can choose the right plate for different raw materials and get better-shaped pellets.
Small pellets are easy to operate and maintain. And it is very safe.
Small pellet mills can fit all kinds of site.
Small pellet mills are manufactured with overall cast, so they are firm and they have a long service life.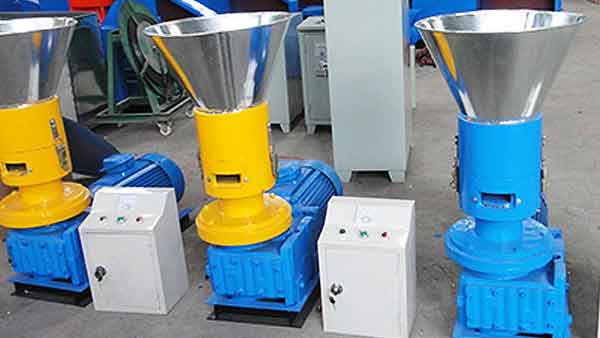 Biomass pellets, especially wood pellets have been popular as one of the mostly used renewable fuel source at this century. And the pellets production has become a sunrise business these years. People make pellets for home heating and the makers make pellets for money, they can all get what they want by owning small pellet mills.